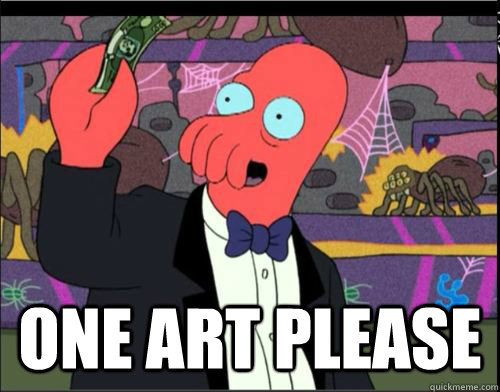 Commissions!
Commissions Status.
Please note: this is the standard price for a base commission. Additional complexity may result on a higher price. Prices will be discussed via notes.
Full colored Commission $25 -
+ $5-10 Per extra character.
Background options
Simple: Gradiants color, whites,
or backgrounds that have very little details -Free
Detailed: Backgrounds with details will cost a small fee of $5.
(Large detailed things like city scapes are not available)
Note: Im practicing on full backgrounds for this reason i cant garentee the quality
i will however always be trying my best.
PRINT INFORTMATION
Prints are now available for pictures.
Commission prints
Any commissions can be printed out for an extra $10 if in Aust or $15 for over seas.
Any prints bought together will knock off extra postage price for example
Jim buys 2 $25 commissions and wants them printed.
$25 +15 (print price 1st with extra 5 for postage.
$25 +10(print price 2nd with just base printing costs no postage)
I do stress that the numbers may seem pricey for some people and i do apologize however it is priced as fair as i can do since the basic printing price covers ink/paper/envelopes/postage/profit.
If you have any questions please feel free to ask.
Prints are A4 (Printer can GO to a3, but that would require talking to me about it and working it out) on 220gsm Gloss Photo paper on a Canon pro-100 printer.
All commissions will be posted on Mondays aust time.
For Oversea patrons please keep in mind the extra $5 is purely a postage thing since it does cost more to send over.
NON COMMISSION PRINTS
If you are interested in a print of a picture that i post you can also buy it.
It'll be $20 for any picture. (With extra $5 for over seas.. sorry guys!)
BULK PRINTS
Buying prints in bulks will make the total cost cheaper.
First print will always be $20. Each print after that is only $12 till you reach 5 prints. After that each print will only cost $8.
Example: time:
Joe buys 10 prints.
He pays a total of $92 for all 10. Instead of $200!
The first print of the bulk pack is $20. Then each print between 2-9 only costs him $8 per print.
I hope this makes sense. Pllease let me know if you have any questions
HOW TO CONTACT
Send a note through DA to this account or
I can be contacted directly at Viracon91@hotmail.com if you do not have a DA profile. This is also the paypal email.
COMMISSION INFO
I will be starting to draw males in commissions, however all males must be accompanied by a female. Meaning no single male commissions.
Still getting the hang of male drawing so keep that in mind.
*I will draw most fetishes, however they will need to be discussed with me via notes in full
If your unsure on if i will draw a certain thing, dont be scared to ask.
I will not draw rape pictures, bondage yes but not rape, if your unsure just ask.
*Please be as detailed as possible, Reference pictures for clothes or poses are helpful
*Will do hentai commissions. For buyers over 18.
*If for any reason you are unhappy with your commission please note me and we can talk about it
*I reserve the right to turn down any commission for any reason.
PAYMENT INFO
*Payments are made in US dollars
*All pictures are sent to Paypay email thats used to pay unless told otherwise.
*I don't start the base sketch untill the payment comes through paypal.
*Do not request a commission if you haven't the payment ready.
I cannot stress this enough.
Please, Do not request a commission unless you are able to send the payment over as soon as it gets confirmed (Obviously this allows for timezones and tine it takes for you to read the confirmation, Making me wait several days or more makes things very difficult.